INTRODUCTION TO OVERLOADING
The transport sector is vital for the economic growth and social development of our continent. Traffic often grows faster than the economy. Africa has a large number of transport corridors which rely on road transport (more than 80%). Initiatives to move freight to rail have not yet been successful. In East Africa 95% of the cargo is transported by road. East Africa will continue to grow with opportunities from recent gas and oil finds, ongoing infrastructure projects and an increasing number of foreign investors moving into the region. EAC formed The East African Trade and Transport Facilitation Project.
Global demands for minerals, energy and agricultural products offer many opportunities for growth in Africa. Africa needs to ensure that it has the infrastructure, maintain the infrastructure and processes to facilitate the trade opportunities.
The cost of transport in Africa can be as high as 40% of the value of the products. The global  average is 5%. How can we compete? Transporting goods in Africa often takes 3 times longer and is 3-5 times more expensive than in Europe, Asia and Latin America.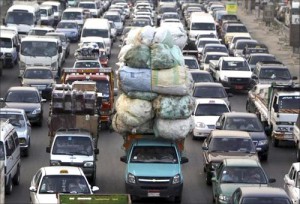 The main reasons for the high transportation costs, apart from fuel as the main cost driver, are poor road conditions and delays (NTBs). Are we addressing the NTBs? A lot of effort is already going into the faster clearing of goods e.g. Mozambique, Uganda, Kenya.
Road infrastructure has to be protected, cost effectively managed and maintained. Are we focusing too much on the development only? The damaging effect of overloading on the road infrastructure is exponential.  Why is the transport sector destroying its own life line?
In 2007 the problem of overloading was identified as a very high priority for Africa by the regional organisations. What went wrong? Why did we allow it to become an "us vs them" war? Are we serious about facilitating trade?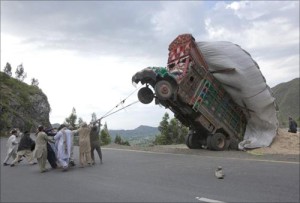 Africa is awakening to the concept of protecting the road infrastructure. Southern and Eastern Africa are already in the process of regional harmonisation, standardisation and co-operation. Examples such as the African Strategic Infrastructure Initiative, the Regional Infrastructure Development Master Plan and the Tripartite Regional Economic Communities. Infrastructure development is currently a focus point in Africa.
During 2010, several West African countries started implementing standard axle weight rules, but it was not regarded as successful. The harmonisation of legislation is still an ongoing objective. Currently, there are new initiatives in Ghana and Nigeria.
Definition of Overloading
Gross vehicle and vehicle combination mass
Axle and axle unit mass
Vehicle design (drawing power, brakes, steering mechanism)
Stability of the loads
THE EFFECTS OF OVERLOADING
A single vehicle axle, overloaded by 25%, causes 2.6 times more damage than the legal axle.
A truck, 100% overloaded, "uses" the equivalent of 18 legally loaded trucks.
SOME PERCEPTIONS ABOUT OVERLOADING from AFRICA
Governments believe that more weighbridges and heavier fines will stop overloading. There are over 260 known weighbridges operating in Africa. At least another 40 weighbridges are planned for Africa. Do we need all of them?
Efficient weighbridge infrastructures are very expensive capital investments. Do we all need huge buildings with very advanced technology?
Facilities, equipment, systems and technology are often outdated. Can we afford the infrastructure and how do we assist poor countries?
Weighbridge operations are regarded as corrupt, inconsistent and using outdated technology. Upgrading in some places not supported by the beneficiaries. No control over prosecution processes.
Operating weighbridges is a state responsibility. The private sector is only involved in some countries. It should be a joint and integrated effort.
Differences on institutional capacity and responsibility for overload control. Different institutions are responsible for overloading control in different countries. Often, there is a lack of capacity and knowhow.
Can more affordable mobile weighbridges be used for prosecution?
A weighbridge should protect a specific road? Overload control strategies should focus on regions and not only one stretch of road.
Operators think that a heavy vehicle can only be overloaded on it's gross vehicle mass. Axle overloading can actually do more severe damage to the road.
Governments rule that all heavy vehicles should be weighed on a static scale. A lack of screening and incentivising legally loaded vehicles causes this practice to have a negative effect on trade.
Information on traffic and overloading, if it exists, is mainly local, not regional and rarely national, complicating efforts to develop a national overloading control strategy.
Habitual offenders are often not addressed.
Transport operators are opposed to overloading control. This is often not the case and transport operators welcome levelling the playing field.
Weighbridges should be "profitable". The "profit" of a weighbridge is in the huge savings in road maintenance from controlling overloading and not in the transport operators paying for fines or to be weighed.
Certain very dangerous and overloaded vehicles are not weighed. Weighing of buses, tankers, cooling trucks, abnormal vehicles and vehicles carrying live stock is controversial. These vehicles have the same damaging effect on the road and road safety.
OBJECTIVES and PRINCIPLES OF AN OVERLOADING STRATEGY
Facilitate and improve trade
An integrated regional approach
Develop affordable though efficient infrastructure based on traffic volumes and future growth
Protect the road asset and optimise the life span
Level the playing field to ensure fair competition
Incentivise legal transport operators
Educate the Police, transport operators, consignees and consignors
Improve Road Safety
Monitoring and screening of vehicles
State of the art technology and equipment ensuring technical compliance
Integrity and integration of systems, processes and staff
Centralised monitoring and control of overloading and operations
Legislation and institutional harmonisation and capacity
A focus on the origins/source of overloading
Conclusion – We need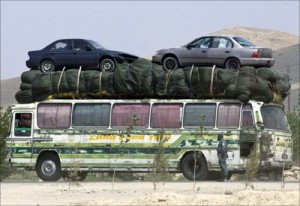 the political will to control overloading in Africa.
a strategic approach with facilitating trade in mind.
empowered institutions with contractual, project, technical, legal, development and management expertise and the capacity to implement.
to co-ordinate, align and integrate the strategies and implementation in regions.
funding from governments, infrastructure investors and developers.
more strategically positioned and efficient weighbridges.